"Stay till Diwali!" Last week my dad wished a few times. I wished we could …
A list of tasks to complete, must dos, deadlines to meet and unfinished projects to complete ran down like a matrix in my brain. Now as I sit here back in Weimar listening to the wind howl outside as the rain batters against the windows, I am thinking I wish I did. 
Diwali for me has very sweet memories. It has been a very long time that I actually celebrated it with my family. In Germany it kind of passes without much fireworks but I remember the celebrations we had with my parents and extended family members in Qatar, Delhi or the US – depending where we currently were.
The Diwali days are sweet, spicy and savory, where much of the time revolves around food. Quintessentially, Diwali celebrates the victory of light over darkness, good over bad, hope over despair. This ancient Hindu festival is a celebration of lights and fireworks and getting rid of the inner fears and demons. We all have them so no wonder Indians of all religions around the world celebrate Diwali by lighting lamps with hope and prayers for a brighter future.
This has always been my favorite Indian festival. Usually my mother will call to remind me to light candles, do prayers and invite friends to share the festivities. She does not have to – I remember – but I like that she does as we spend time sharing fond memories of past Diwali festivals we spent together. As I have just returned from Dubai she not only reminded me but has secretly packed some of my favorite Indian sweets in the suitcase. As I unpacked on Sunday I found gorgeous golden boxes lined with bright pink crepe paper holding fudgy Mysore pak, nutty cashew nut burfi and syrupy balls of black jamuns – mums are great that way.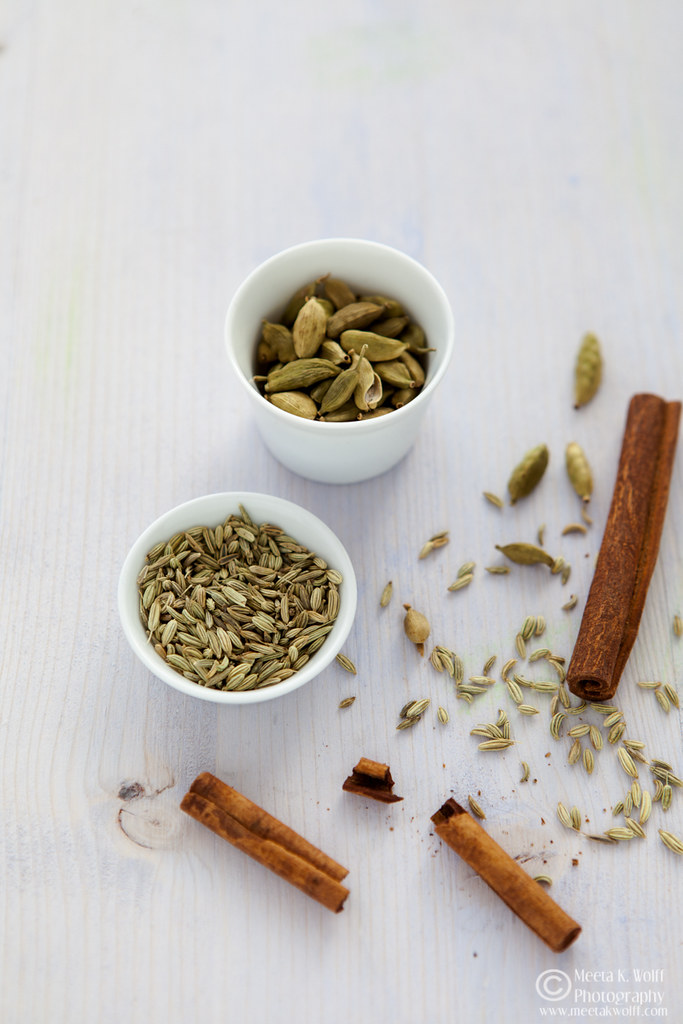 Here back at home in Weimar, I stir rice into almond and coconut milk adding just a hint of spicy warmth with cardamom and fennel seeds. Carrots and raisins add vibrant color and soft sweetness. Indian rice pudding – kheer – is an all time favorite with Soeren and me. We enjoy a quiet moment by the window watching the trees dance in the winds. Our Diwali here is not as colorful or vibrant as they are in India or with a larger Indian community. But we do satisfy our sweet cravings, sharing tasty meals with friends by candlelight.
This rice pudding is a sublime dessert with beautiful notes of cardamom and fennel seeds. It adds a warming cover around the flavors of carrots cooked in coconut and almond milk, while the plump raisins burst with juicy flavor. Not an ultra rich dessert the Indian cuisine is known for but nonetheless full-bodied, luscious and very satisfying.
Recipe: Fennel Seed and Cardamom Spiced Carrot Rice Pudding
Print Recipe
By
Meeta K. Wolff
Prep Time:
Total Time:
Serves:
6

Ingredients
700 - 750 ml almond milk
430 ml coconut milk
200g long grained white rice, uncooked
¼ teaspoon salt
3 medium sized carrots, grated
50 g palm sugar / Muscovado sugar
5-6 cardamom pods, lightly crushed
1 teaspoon fennel seeds
1 cinnamon stick
250 g Indian or Iranian raisins
75 g pistachios, coarsely chopped
Method
In a heavy-bottomed pot set over high heat, bring about 500 ml almond milk, coconut milk, rice, whole spices and salt to a boil, stirring often. Reduce heat to low; add carrot and simmer, stirring often and slowly adding the remaining milk, until rice is tender but not mushy, 20-25 minutes.
Once the rice is cooked remove from heat and stir in the sugar and the raisins. Allow to cool slightly as the rice pudding will thicken further as it rests. The rice can be served warm or at room temperature. Serve with a good sprinkling of pistachios.
Notes
Instead of palm sugar you can use
jaggery
or brown sugar too.
Cardamom is perfect for this rice pudding but you can use any of your favorite spices. Try this with allspice, stern anise or some finely grated ginger.
---
Verdict
We love rice pudding here and enjoy it in all kinds of variations. Our all time favorite are the Indian kheers infused with divine spices. The carrot is reminiscent of carrot halwa - another favorite Indian dessert in this pudding but adding another delightful layer with the rice cooked in the almond and coconut milk.
Happy Diwali to all my Indian friends and readers. Wishing you all a fabulous, sweet and vibrant festivity.
Enjoy more rice pudding treats from What's for lunch, Honey?
---
All photographs and written content on What's For Lunch, Honey? © 2006-2014 Meeta Khurana Wolff unless otherwise indicated. | All rights reserved | Please Ask First